The Badger Damascus Rose Beauty Balm has been formulated to treat troublesome and sensitive areas of the skin, such as stretch marks and under-eye areas.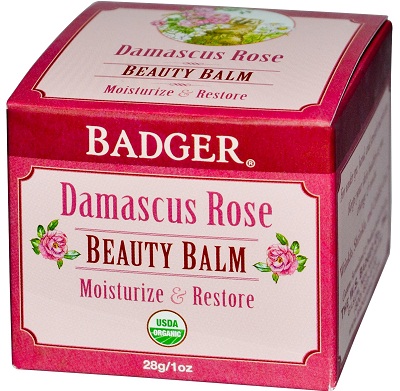 Contents:
Hippophae Rhamnoides (Seabuckthorn), Lavandula Angustifolia (Lavender), Olea Europaea (Extra Virgin Olive) Oil, Cera Alba (Beeswax), Calendula Officinalis (Calendula) and more
Review:
The Badger Damascus Rose Beauty Balm is made by taking roughly two tonnes of rose petals to make just 16 oz of this oil. The oil is gentle on the skin and leaves it feeling fresh and alive. It can be used to prevent stretch marks and can be used by simply applying it on troublesome areas. This is a good skin nourisher and helps to keep it hydrated.
Pros:
Reduces lines and wrinkles.

Can be used as a moisturizer for delicate skin areas.

Is a good antioxidant for the skin.

Great for oily skin and dry skin alike, as it allows the skin to stay hydrated and plump.
Cons:
Has a strong rose scent which could be a deterrent for a few people.

Has an oil base, so adding makeup on top would not be feasible.
Our Rating: 3.5/5
Although this is a great moisturizing antioxidant, it could take some time for one to get accustomed to it on areas like the face.